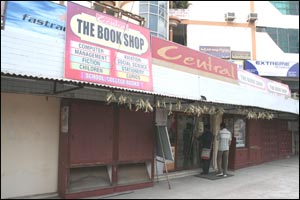 Gangaram is now Central. Don't be surprised when you walk in under the new signboard and see familiar walls and cupboards, familiar staff, and the same corner see-through office room. Once-upon-a-time's Gangaram's is now indeed Central.

Central attempts to adapt to the vast needs of customers, along the lines of the bigger bookstores. They now have extra racks for children's books (with a beautifully illustrated fairy tale series), gift articles, greeting cards and the like. Old wine, then, but in a bigger, better organised bottle.

Central lives up to Gangaram's location with its abundant collection. They have books for nerds of all fields, computers, management, self-improvement and literature. Of the last, they have a wide range in English, Hindi and Telugu. And anything you can't find on the shelves, you can place an order for.

Right at the entrance, Central has a oval-shaped stand stocked with all the latest books to hit the streets, plus some hot best-sellers. Getting past this over-burdened bookcase will take your average book-mad shopper at least 30 minutes. And things get even better from there on.
EVENTS AT CENTRAL BOOKSTORES
There are no events at Central Bookstores scheduled currently.