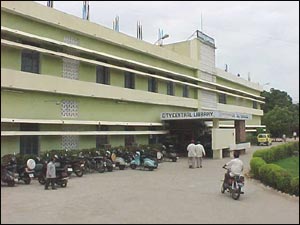 An unpretentious gold mine of the written word, the City Central Library at Chikkadpally is a rare example of a modest library holding a wealth of books. Started in March 1962, it has well over 100,000 books stored in its rusty racks.

The ground floor consists of a room for children, periodicals, newspapers and language books. It also has an Internet browsing center which charges only Rs. 10 per hour.

The minimally utilized first floor holds the lecture hall, and the preservation, reference and text book rooms. A wide variety of reading material is provided here: you have over 123 monthly periodicals to choose from and 29 weekly magazines to read through. The languages are both national (Telugu, Hindi, Marathi, Urdu, Kannada and Sanskrit etc.) and international (German, French, Spanish etc.).

It houses 1,16,540 readers, 3,286 of them registered. In a year the books lent are more than 17,000, and those that are read are more than 95,000. There are over 100,000 in all, and you can lay your hands on both the gossamer pages of an old translated French book and on those of a freshly published Sanskrit Ramayana. A cross-section of such a large choice of books is seldom found in Hyderabad.

Several ancient books reflect the respect that readers have had for this library, since many books have been donated by learned scholars.

This humble warehouse of words, with its age-old (literally) staff, makes the reading experience that much more special. Trying to keep pace with the changing times, the library has logged all its books into computers and even provides you with an instant photograph through their webcam when you come for registration. The humble place enhances your knowledge by not only providing you with a mine of books, but also with small captions stuck against the walls. However, they are mostly in Telugu. To educate the ignorant non-Telugus, there is a 'Divine Thought For The Day' written in English.

The fee is a nominal Rs. 60 for a single membership and Rs. 120 for a double membership. Here comes the tricky part. Pay attention because you really don't want to run into one of their grumpy, albeit kindly, staff. When you take a single membership it means you can borrow 2 books amounting to a net Rs. 150. This means that you need to be careful about the value of the book you decide to borrow. Now the privilege of having a double membership is that you up the net amount to Rs. 300 though the number of books borrowed remains the same.

Both these are life memberships, so you don't have to go through the tedious renewal process each year. You can borrow books for 2 weeks only, and again, you do not want to tick any of the staff off by returning the books late.

The library has an attached outdoor auditorium where many book releases and other functions are held. The place is open from 8am to 8pm, though you would be advised to go late and return early from there. Unless you want to face an annoyed staff member badger you for troubling his/her lazy banter with their dusty computers.
EVENTS AT CITY CENTRAL LIBRARY
There are no events at City Central Library scheduled currently.