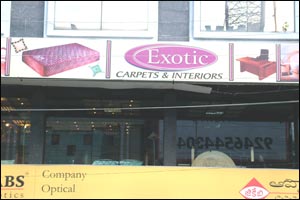 These people have a good thing going with their location, and they've fully made use of the advantage. There are large signs all around the 1st floor of the building, so you can't miss Exotic Carpets And Interiors from any direction. And its entrance that shares the front with GKB Optolabs is well marked. Even the climb to the 1st floor is interesting, as they have some kind of a texture done on the walls in black and yellow that is very eye-catching.

Exotic Carpets And Interiors started out in 1999 as a seller of silk and other fine imported carpets and fancy light fixtures, but subsequently began to stock many varieties of furniture imported from Malaysia, Taiwan and even Europe. In fact, they claim to be the first in the city to sell imported metal beds, and smile helplessly at the fact that this particular item has since "flooded the market".

It's not a very large store, and every inch of it is covered with display. Sofa sets jostle for space with steel and glass dining table sets, and painted metal beds. And in every gap in between is a brass-and-glass trolley or a lamp of some sort. However the cramped display is not a hindrance, as it is fairly easy to weave your way through the stuff and find things that really catch your eye. Personally, I loved a beautiful wooden sofa set from Malaysia, and some leather pouffes (seats without arms or backrests), which at Rs. 900 apiece are relatively affordable.

One area is dedicated to carpets, and there were many in the size 6' x 4' that is apparently the most commonly sought after. The prices for this range start at Rs. 3,000. Larger carpets and smaller bedside rugs are also available, as are large wall hangings or tapestries.

The store added curtain fabrics to its list of products in Nov '04, but at the moment the range is limited; something they are aware of and plan to remedy. You will also find paintings large and small by local artists, who get a chance to display their work here, and also take orders from time to time from people with specific themes or colors in mind.

Since the store also offers interior designing services, it makes it a one-stop shop for people who need help getting their homes decorated, both in terms of space planning and development, and in the actual choosing of the furniture.

All in all, Exotic Carpets And Interiors is definitely a place to visit whether you need to do up the entire home or just pick up a few interesting pieces.
EVENTS AT EXOTIC CARPETS AND INTERIORS
There are no events at Exotic Carpets And Interiors scheduled currently.
LEAVE A COMMENT
fullhyd.com has 700,000+ monthly visits. Tell Hyderabad what you feel about Exotic Carpets And Interiors!