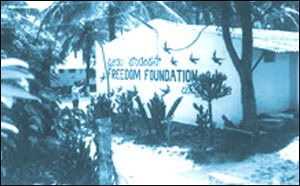 Background
The Freedom Foundation De-Addiction Centre was set up in 1992 to provide effective treatment for drug addicts and alcoholics. The de-addiction center in Sikh Village has a capacity of about 25 beds, and is open to calls 24 hours of the day.

The Centre also has the highest recovery rate in the country (around 49%), owing to its holistic treatment - which is based on the 12-step self-help model of Alcoholics Anonymous and Narcotics Anonymous.

Activities
Individuals are admitted to the center for a period of about 100 days (inclusive of group, family and individual counselling) for de-addiction. This provides the individual with a medically and psychologically safe atmosphere for detoxification. The services offered by the Centre are fee-based, where boarding, medical expenses, food expenses, counselling charges, yoga fees, and travelling & conveyance are charged for.

A open-to-all family session is held every Sunday at 11:15am, where you can interact with other families dealing with addiction.

Volunteer Opportunities
If you would like to support the foundation, cash donations can be made to the "Freedom Foundation". Alternatively, you can volunteer your time, or apply for a traineeship. Traineeships (details of which can be had from the office) are awarded only to those with a relevant background.

Although you are not permitted to the recovery area (unless you are admitted there, of course), there is little likelihood of it resembling a dimly-lit hallway with cheerless nurses. The volunteers working there are warm and passionate about the cause, and the Freedom Foundation has the apt feel of a safe haven - located in a quiet colony of Sikh Village.

For their efforts, the Freedom Foundation was awarded the first Commonwealth Award for Comprehensive Care in HIV/AIDS. There were 72 nominations for this global award.
LEAVE A COMMENT
fullhyd.com has 700,000+ monthly visits. Tell Hyderabad what you feel about Freedom Foundation De-addiction Centre (Voluntary Orgn)!