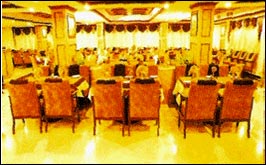 Hotel Anmol Continental, being a 4-star hotel, shares many features with others in the same league. But it boasts of a unique attitude - it is bestowed with humility and graciousness, which are being subtly and definitely being wiped off of the hospitality biz.

The large reception is no more imposing than the smiling receptionist is - who could at times turn out to be the CEO of the hotel, doing some field dig. The efficient work-desk is matched by the comfortable sofas and the controlled confidence that the staff shows.

The hotel has 73 well-furnished, comfortable and luxurious rooms - not very spacious, but with good décor, and with all the basics in place. Here, an Executive single A/C room will cost Rs. 1,450, while an Executive double will cost Rs. 1,840. Non-A/C single rooms are available at Rs. 850, and double at Rs.1,050. There are 5 Luxury Suites and one Presidential Suite, with respective charges of Rs. 3,700 and Rs. 7,000 per day. On all executive A/C and Luxury rooms, you are ensured of a complimentary breakfast.

Room service is for 24 hours, but includes a restricted menu. After 12pm, there is midnight Biryani especially prepared for the guests. There is just one glitch - Anmol doesn't serve liquor - not in its restaurants, not in its banquet halls. But that does not mean that you can't get your own fill and enjoy on their premises.

Pride Of Hyderabad, a multi-cuisine restaurant, is well-managed and staffed by efficient personnel. The Glass House on the first floor is one of their 2 banquet halls. With a seating capacity of 150 people, it is ideal for formal parties and conferences. Highness is on the sixth floor, has a capacity of 60 people, and is booked mostly for cocktail parties. Surrounded by a terrace garden, it is equipped with an OHP, projectors and other conference tools.

Both these halls can be booked for Rs. 3,500, and if the total number of people is less than 35, at Rs. 325 per person (for a non-veg menu), or Rs. 300 (for a veg menu). The registration is for 2 slots - lunch between 11am and 4pm, and dinner between 7pm and 11pm.

Anmol also has a small shop of Hyderabadi pearls, and is planning to build a shopping arcade on the ground floor. There is a florist on call, a facility for safe-deposit lockers, and a doctor available on request.

Anmol Continental is well-equipped to take you on a holiday from the bustle of life, or serve you with a few hours of respite from work.
EVENTS AT HOTEL ANMOL CONTINENTAL
There are no events at Hotel Anmol Continental scheduled currently.
LEAVE A COMMENT
fullhyd.com has 700,000+ monthly visits. Tell Hyderabad what you feel about Hotel Anmol Continental!