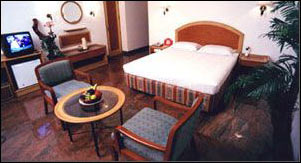 Kamat Lingapur is the rich cousin of the Udipi restaurant chain that we all have come to absolutely love. With an all-vegetarian menu, and with three stars on its lapels, this hotel is about affordable luxuries. Situated in what is pretty much the heart of the city, Kamat Lingapur is extremely popular with the lady corporate executive on the move.

Kamat Lingapur's location allows easy access to some of the city's most happening night-spots and shopping centers. It also allows easy accessibility to almost any part of the city. With just one multi-cuisine restaurant Shrirang, and a modest lobby, the hotel does not try to wow you with its size, and neither does it go overboard with its frills. It floors you with the things you cherish most in a hotel. It looks after you, and it makes sure that you enjoy all the amenities that are expected of a 3-star hotel. But, and this is its super-ultimate USP, it offers all of this at a startlingly humble price.

The rooms are done up to appear cheerful. There is an interesting use of colors in the room-interiors, upholstery and linens. The rooms are fair-sized, and come with a writing table, a chair, and a minibar (in the Executive and Classic rooms).

Kamat Lingapur is good idea for vegetarian banquet affairs. Its larger halls (Triveni and Anupama) are popular with the locals for weddings, and its board rooms (Chandrika and Radhika) have a lot of corporate patrons.

Shrirang, the multi-cuisine restaurant, is a haven for great food. Its breakfast buffet bears a special mention.

In sum, here's a hotel that respects your money, and your patronage.
EVENTS AT KAMAT LINGAPUR HOTEL
There are no events at Kamat Lingapur Hotel scheduled currently.