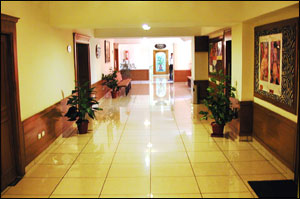 Placed almost on top of the celebrated Paradise Circle, Nakshatra is the certainly at least the most easily locatable hotel by an out-of-town visitor in its class.

Fortunately, the bustle of this busy road doesn't make forays into the relative quiet of the bylane where the entrance to the hotel lies. And, while Nakshatra shares its breathing space with a long-standing commercial center with its own ecosystem, none of this actually disturbs the hotel's unruffled charm.

The lobby faces a large, inviting looking bookstore, a travel company and a beauty care establishment. So depending on your inclination and the time of your arrival, you could be tempted to delay the check-in process just by a bit - alternatively you could wait and explore these shops later.

But whatever you choose to do first, do elect to sample the buffets served in the hotel's vegetarian coffee shop Panorama. The non-vegetarians need not despair, for Parikrama serves some mean multi-cuisine fare, and has a bar to match.

A conscious decision on the part of the planners of this 2005 hotel has been to place its public domains, namely the restaurant, the boardroom and banquet halls, all on the same first floor. The upper floors accommodate the rooms, which come in two categories. Although both categories are spacious enough and similar enough in the facilities they offer, you might wish to consider which side of the corridor you prefer depending on the view - either of the urban mela or of a green GATI campus.

The locals are also in for a pleasant surprise, for the management doesn't believe in haggling over its buffet and boardroom rentals. The upfront MRP is actually printed on the information brochure with no hidden charges, a rarity within the hospitality circles, cleverly liberating the client from the sweaty negotiation process.

All said, the 3-star hotel, with its popular dining venues and great service, would fit the bill of even a seasoned traveler.
EVENTS AT HOTEL NAKSHATRA
There are no events at Hotel Nakshatra scheduled currently.