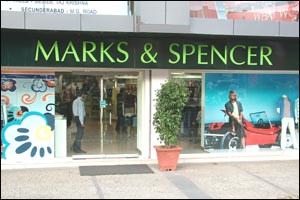 We Hyderabadis arent exactly famous as the "Shaken, not stirred" types. It would require a persistence and perseverance of Herculean proportions to get us to shake our booty to those peppy Bhangra numbers. And in our dictionary, "stir" is something you do to biryani as it cooks, not something your body is to be subjected to. But every once in a while or whenever the latest James Bond flick releases we do get the urge to appear suave and sophisticated.

If, perchance, you are a little younger at heart and need to patao girls for a living then you, my dear friend, are on a life-long quest for sharp clothing. Now James Bond, with all his English sensibilities, gets his suits stitched at Seville Row. Where else would one get the exclusive attention and service that the "ladies' man" needs? It is then a great pity that we in Hyderabad have no such avenue for fine clothing. Or do we?

Even as we were resigning ourselves to this poignant fate of ours, sometime late last year, the British clothing chain Marks And Spencer decided to bring some sunshine in our lives. For a guaranteed four figure hole in your pocket, you can get some of the finest fashions and trendiest cuts at any given time. Everything from T-shirts to formals to suits to ladies' tops to lingerie to chocolate-flavored face packs to underwear and ties you get them here. And all of them imported from London - so you can rest assured you will match up to the Bond Standard.

The only flip side to the whole rosy picture is that the British Exchequer pays for James Bond's clothes. We mere mortals would definitely need a small country's GDP or an Arab Sheik's daughter to help us honor the bill.
EVENTS AT MARKS AND SPENCER
There are no events at Marks And Spencer scheduled currently.