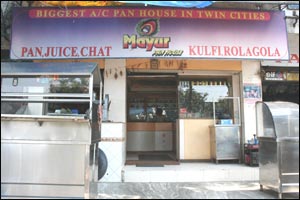 While there is no dearth of stalls that serve good mosambi juice, some places do it better than others. It's all in a couple of mystery spices, but they're not telling.

Mayur is bigger than most pan shops, and on Minister Road, it is the most popular place for fresh fruit juices of all kinds. One thing that sets Mayur apart from the other juice stalls is that it only uses fruits that are well in season, so you're spared the over-sweetened concoctions you'll find elsewhere. The Pineapple, Grape and Chickoo flavors are the best loved. Pomegranate and Orange are also quite as good, if not as popular. Watermelon and Strawberry are other seasonal delights.

The stall also sells decent chat, and the Bhel Puri and Pav Bhaji here are good.

Stop here for a while on your way to other, more important things; it might not look like much, but Mayur serves the best fruit juice in the area.
EVENTS AT MAYUR PAN HOUSE
There are no events at Mayur Pan House scheduled currently.