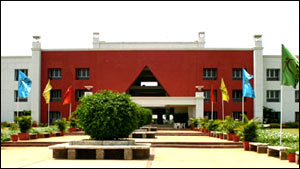 Parkwood School International is indeed a colossal educational and residential institution. Situated 60km from the city, it occupies a sprawling 32 acres in Vikarabad, chosen for its cool climes, and has even jockeyed for prohibition of any industrial development in and around these areas. In fact, its assaying to keep the place safe and wooded explains the unusual name.

The impressive building shows the careful planning that went into the infrastructure. A striking feature is the network of advanced computer stations. Each student has an account, and can observe his/her progress and even view his/her teachers' comments and special notes, marks, recommended books etc. The students have individual e-mail ids, too. There is instant connectivity to the Intranet not only for the students and the teachers, but also to the parents, who can monitor the children's progress!

The school is adamant about inculcating in its students a strong focus on extracurricular activities, to give them a comprehensive learning environment. This means that they are involved in plenty of outdoor activities. They are taught to learn to exploit the vast lands of their school, and hone their outdoor skills. Here are some statistics of the outdoor games facilities at Parkwood:

Basketball - 5 Courts
Volleyball - 4 Courts
Tennis - 7 Courts
Football - 2 Fields
Cricket - 1 Field with 6 Practice Pitches

Draw another long breath, for here goes more:

Roller Skating
Swimming Pool
Rappelling Wall
Cycling/Jogging trail (1km long track)
Athletics
Put-Put Golf
Obstacle Course

They sure do teach you a lot of survival methods to combat their marooned existence! Add to that 10 Table Tennis tables, Scrabble, Carrom and Chess, and you know one aspect of student's development that isn't being ignored.

The school provides both CBSE and IGCSE (of the University of Cambridge) curricula from Grades 4 to 9 currently, and classes up to 12 will be added in subsequent years. The fees for IGCSE at the 9th grade is Rs. 2,00,000 per year, and it's Rs. 1,40,000 for CBSE. Yes, expensive.

The residential life is plush, in the sense they have spacious rooms, a recreation room and even toilets that flush. Just one way to show that your kid is indeed getting value for your money. After all, what are kids for?
EVENTS AT PARKWOOD INTERNATIONAL SCHOOL
There are no events at Parkwood International School scheduled currently.
LEAVE A COMMENT
fullhyd.com has 700,000+ monthly visits. Tell Hyderabad what you feel about Parkwood International School!