Prashant 70mm (Clock Tower)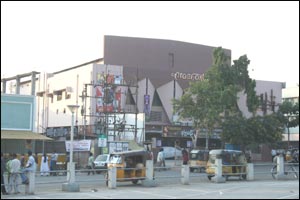 Prashant is one theater where you can comfortably cool your heels after a typical harrowing day spent standing in that kilometre-long queue for the tickets. A cinema hall that normally screens Telugu flicks in the regular shows (though I remember venturing into it once for an 'educational' picture by Mira Nair), Prashant has a capacity of over 1,000, and so the probability that your stint in that queue was successful, is high.

With the recent trend being renovation, this one, too, was given a cosmetic overhaul as recently as in 2002. So it now boasts of the latest in digital sound and comfortable cushioned seats. The air-cooling is probably amongst the best that you will find in the twin cities, and the parking space is quite adequate - at least for the Monday morning shows, when the crowds are at their minimum.

A good place to catch a movie, and not just for the ease with which you can commute to and from it.
PRASHANT 70MM (CLOCK TOWER) SNAPSHOT
Listed In

Address

9-1-73, Street Mary's Road or 73 Red Cross, 8-2-220/23, Near Clock Tower, Clock Tower, Secunderabad - 500003

5 users say this is wrong.

Telephone

Distance

Seating Capacity

Air Conditioned

DolbyDTS

Tele-Booking

Year Started

Timings

Closed On

Prices

Payment Option(s)

Closest Bus Stop

Closest MMTS Station

Add New Field:
MOVIES AT PRASHANT 70MM (CLOCK TOWER)
There are no movies at Prashant 70mm (Clock Tower) scheduled currently.
LEAVE A COMMENT
fullhyd.com has 700,000+ monthly visits. Tell Hyderabad what you feel about Prashant 70mm (Clock Tower)!