Sri Ganesh 70mm (Dilsukhnagar)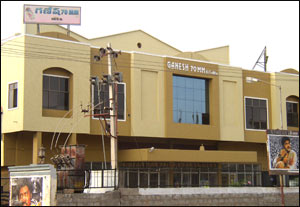 The bar has been raised. All of them have to now suck in their tummies and tuck in their shirts. Because the theaters are now expected to entertain, looking extremely good. And their beauty is more than skin deep. Sri Sai Ganesha belongs to this new breed of cinema halls.

As soon as you reach the theater, you get the feeling that you're in Australia. That's how far you'll have to walk from the entrance to reach the balcony. After a series of serious lobbies, twists and turns, what you see is a serious piece of business.

The hall is quite airy. The air-conditioning has something to do with this. The theater is quite comfortable. The seats have something to with it. The popcorn guys serve you at your seats. The leg-room has to do something with it. Okay, not legroom, hunger pangs - but these guys have to show off that the legroom is enough for the vendor guy to stand.

The sound system is particularly impressive. What is not impressive about the place is the acute lack of parking space. The fact that it bottle-necks into a congested street doesn't help either.

Sri Sai Ganesha usually screens the latest Telugu flicks. A good ambience and good family crowds are an asset to this place. If you're not going to watch a movie in a 4-wheeler, this baby's quite happening.
SRI GANESH 70MM (DILSUKHNAGAR) SNAPSHOT
MOVIES AT SRI GANESH 70MM (DILSUKHNAGAR)
There are no movies at Sri Ganesh 70mm (Dilsukhnagar) scheduled currently.
LEAVE A COMMENT
fullhyd.com has 700,000+ monthly visits. Tell Hyderabad what you feel about Sri Ganesh 70mm (Dilsukhnagar)!