Shivani 70mm (Dilsukhnagar)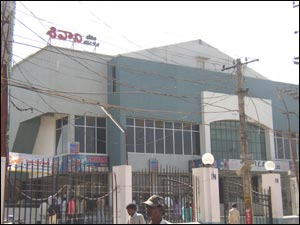 Shivani is one of those places that you go to and wonder, where did this come from? This being a nice place has nothing to do with your thoughts. Its location has. The theater is completely inconspicuous, and you wouldn't notice it even though it is just 10 meters away from the main road.

Not too petite and not too large, the perfectly-sized hall is supplemented well with spacious seats. They're very comfortable, and the couple seats are placed strategically, right in the dark corners of the hall.

There might be a feeling of underwhelming claustrophobia in either corners of the hall below the balcony, where it overlooks the seats under it. The premises are clean - not as clean as a theater can get, but clean by most standards. With a fantastic sound system and a huge screen, Shivasri is a great place to indulge yourself in the latest Telugu flick.
SHIVANI 70MM (DILSUKHNAGAR) SNAPSHOT
Listed In

Address

Telephone

Fax

Distance

Seating Capacity

Air Conditioned

DolbyDTS

Tele-Booking

Year Started

Timings

Closed On

Payment Option(s)

Closest Bus Stop

Closest MMTS Station

Add New Field:
MOVIES AT SHIVANI 70MM (DILSUKHNAGAR)
There are no movies at Shivani 70mm (Dilsukhnagar) scheduled currently.
LEAVE A COMMENT
fullhyd.com has 700,000+ monthly visits. Tell Hyderabad what you feel about Shivani 70mm (Dilsukhnagar)!