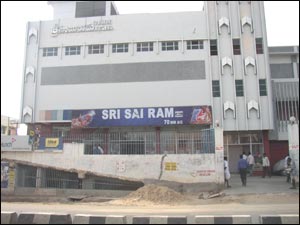 Situated in the humble obscurity along the Malkajgiri main road, Sri Sai Ram is a decent theater - if you can manage to get there.

Sri Sai Ram is a small but busy place. Everything here appears normal, but has little problems lurking underneath. Like the litter inside the cinema hall ...and the over-priced food ...and the toilets. Badly in need of maintenance, the toilets help build up the tenacity of your kidney and are soulful for their retaining powers. Believe me, you would do well to hold when faced with that scenario.

Flip to the other side of the coin, and we have a winner. Small but capacious, the theater feels good inside. The leg space and the buoyant crowd only assert this further. Yet, the cramped seats can snag your booty if it's a bore you are watching. Better maintenance, and the place would be one to reckon with, the distance to traverse notwithstanding.

Among the other things that score are the audio-visuals and the A/C. They are no great shakes, but are decent enough to relish a good movie. And a fine foyer coupled with a smoking zone, amongst other amenities, make up a good symphony.

Club these with good numbers of couples and middle-class families frequenting the theater to delight in the latest Telugu flicks hosted, and a decent parking space, and you will have no qualms.
LEAVE A COMMENT
fullhyd.com has 700,000+ monthly visits. Tell Hyderabad what you feel about Sri Sai Ram 70mm A/C 4k Dolby Atmos (Malkajgiri)!