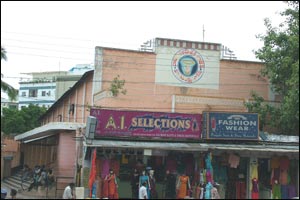 Started in 1953 (that is as far back as the manager trusted his memory), Vijaylakshmi Talkies is situated at the prime locales of Ameerpet, albeit so inconspicuously that the odds against your noticing it are heavier than those against India's winning the FIFA World Cup.

If you are one of those who believe that change is essential for survival, hey, news flash! This one has been left untouched, a fact that should please those who value tradition - the same screen, the same mono sound system, the same seats, the same fans (what, you expected an air conditioner?), and, yay, even the same rates! But one thing is guaranteed - no blackmarketeers here. Also, conspicuous by their absence are things like canteens, lobbies, the parking slip, or, for that matter, even loos (well, at least not what you can term loos, anyway). The theater screens Telugu films that change every week.

So, why would you go to this theater? One word - price. And maybe to get a feel of how our grandpas watched movies. No wonder then that they are all so grumpy where films are concerned.
MOVIES AT VIJAYALAKSHMI 70MM (AMEERPET)
There are no movies at Vijayalakshmi 70mm (Ameerpet) scheduled currently.
LEAVE A COMMENT
fullhyd.com has 700,000+ monthly visits. Tell Hyderabad what you feel about Vijayalakshmi 70mm (Ameerpet)!