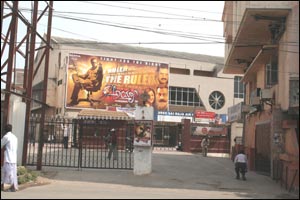 Sri Sai Raja is a perfect example of what a makeover can do to you. Okay, so not maybe to you, but to a theater, anyway. It makes it look really cool, with chairs, A/C and a red carpet all around.

Thr original Raja Deluxe was not a bad theater. It was horrible. It just missed out being featured on the World's Scariest Places because it was too scary to show to normal people. From that state to the state where it can scare the other theaters into matching its standards, the journey has been, well, undercover. And when the finished product was unveiled, all were amazed.

Sri Sai Raja has some really comfortable seats. They feel like soft velvet. Mostly because they are soft velvet. Then there's ample leg-room and great couple seats. But the armrest in the couple seat is a pain. And if it is pulled up it's even more painful - comes right to the level of your face, and if you turn hastily towards your partner, it can get very bad.

The screen is proper 70mm, and the sound is worthy of a 70mm hall. The premises are decently clean. And the popcorn is good, and more importantly, well-priced.

On the whole, a good place to catch your celluloid soulmate.
LEAVE A COMMENT
fullhyd.com has 700,000+ monthly visits. Tell Hyderabad what you feel about Sri Sai Raja 70mm (Musheerabad)!