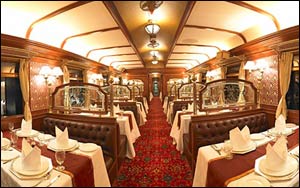 The BJN Group should definitely consider putting up a board that says in succinct terms that the wait will be worth your while, for it will almost always be true. Strong words indeed, but that may be just the sentiment you will walk out with from Sahib Sindh Sultan, replete and satiated.

The Scene
The dining experience begins at the door where the hosts in period apparel guide you to your table. Done in accents evoking all the charm of Hindustan circa 1850, the restaurant is all about unpretentious Indian food bringing back memories of the Colonial period.

The restaurant itself is meant to resemble the Vulcan engine-drawn coaches, which stand on rails, complete with the oh-so-familiar stones on the tracks and the wooden sleepers, adjoining a platform with columns of riveted masonry, lamps that belong an earlier century, and even a brass bell for the Station Master. In this case, the coaches themselves are non-smoking, probably the only departure from an absolutely realistic portrayal.

The Food
With dishes named Railway Mutton Curry (a must try) and Mangal Pandey Ki Pasand (a version of the Kabuli Chana), the menu, even without the assistance of period interiors, or trains for that matter, transports you to a place in time where food was not just perfunctory but a leisurely occasion to savor and cherish.

While on the note of savoring, do try their Karara Palak Chaat, Tawa Surmai, Atta Chicken and Kadai Paneer Kamalkakdi. On second thoughts, you could try almost anything on the menu and have a guaranteed great meal.

The establishment also boasts an extensive beverage menu, with fine wines, cocktails and non-alcoholic beverages, as well as a decent dessert section, should you care to venture that way after an almost assuredly large repast.

The Verdict
Sahib Sindh Sultan sets a high bar for itself with its elaborate, innovative menu - and manages to deliver. Most of the dishes are large portions meant for sharing, and the larger the group the greater the chance of sampling all its utterly delectable items. Of course, you can always go back for the things you didn't get to taste the first time - and this time round not quite mind the 30-45 minute wait on weekends. (No, they don't accept reservations).
EVENTS AT SAHIB, SINDH, SULTAN
There are no events at Sahib, Sindh, Sultan scheduled currently.
LEAVE A COMMENT
fullhyd.com has 700,000+ monthly visits. Tell Hyderabad what you feel about Sahib, Sindh, Sultan!