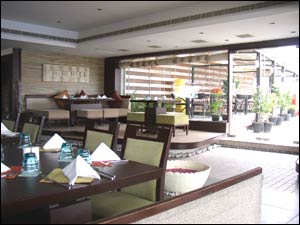 Variety, as they say, is the spice of life. And variety is what never runs low at Terrace Bay.

The Scene
From the upholstery and flooring in earthy moss green, brown, and slate to the drapes in sequined splendor, vase arrangements in gold and silver, a pure white bar, and lighting options in bright orange, the diner is treated to some avant-garde furnishings indeed. The al-fresco dining section reflects more of the same - a bar to call its own, a raised section for the few adventurous who want to shake a leg to a live band on select nights, and some verdant natural greens.

The Food
The food too follows the same theme of variety. Offering cuisine from various parts of the civilized world, be it a French Onion Soup or a Thai Red Curry, a Lebanese Mezze Platter or an Italian Spaghetti Bolognaise or even the very English Steak, besides the more mundane Chinese, sizzler options and plain vanilla North-Indian - this restaurant covers 'em all.

Unlike Jack, the one of the many trades fame, Terrace Bay manages to master most of its cuisine on offer. However, the management would be advised to train its staff in assisting intrepid diners with their choices, towards everyone's advantage.

The Verdict
Terrace Bay is an exuberant place, with a night-time view of the city that makes you happy to just be up there - far above the dust and grime of the flyovers under construction, and the ire of the daily commuters.