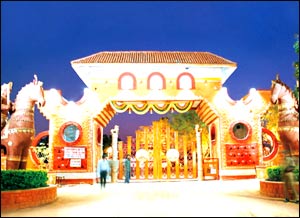 Held in the last two weeks of December every year, the annual Crafts Mela, also known as The Overpriced Rip-off Fair Of The Year, is only one part of life at Shilparamam. After ridiculous amounts of money have been spent, 'folksy' food has been eaten, and much fun has been had by all, life goes back to normal in Shilparamam. It is a crafts village, where artisans live all year round and make pots that all look the same. We are kidding, of course. They are highly skilled.

A tale told in brick-red, potter's clay and thatch, this village hosts workshops as well - one sculpture workshop held by the Department Of Culture for sculptors from all over the country saw stone spring to life and chips of rock fly through the air, and Shilparamam was beautiful.

The village has a small open-air auditorium near the stalls for folk dance performances and the singing of some seriously jarring folk songs. It does, however, have a much bigger and more enticing open-air auditorium at Rock Heights, unsurprisingly set on top of a bunch of rocks. The walk up to it is torturous, but the view is wonderful, and the punugulu (a fried Andhra snack served with flaming chutney) are just the thing to munch on when sitting under the wide-open sky. The Colonial Cousins performed here once, to a crowd of cheering teens, happy housewives, and dancing grandpas.

If it is a terra cotta denouement to your well-made money that you quest for, then Shilparamam may be your horizon of enlightenment. Not a bad choice at all for an outing with the family, or with someone who you're still hiding from them.