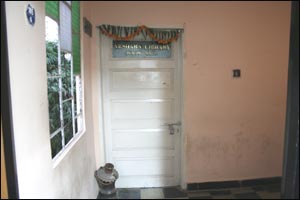 Akshara can provide you anything that you want which is on the academic line of reading. Except books, that is. Those you'll have to bring on your own... for a while.

Situated in a pocketed part of Basheerbagh, this reading room is a new concept that has built over the past 4 years. It has over 80 members, and its owner, Deepak, claims that the inhabitants of this study abode are mostly people preparing for competitive exams.

It is a well thought-out place, we'll give it that. There are A/C and non A/C rooms to study in, and even an exclusive ladies room, wherein the ladies get their own bathroom, where the men have a common loo right behind the canteen. The canteen facilities in an adjacent room comprise tea and coffee vending machines, and a microwave with some curry-puffs.

Considerately, Deepak also has had lockers installed wherein students can keep their books and baggage overnight so that they don't have to lug all their hefty 1,000 page study material around. So for the studious nerd who has just finished his fifth or sixth tutorial of the day, this is the place to come and get some extra studying in. Alternatively, the distracted brat can run away from all the noise at home and find peaceful studying awaiting him here.

Now keep in mind - this place may not be a library, but it sure has similar rules. No talking in the reading room at all. Any discussions or chit chat should be done in the canteen section of the place. Unlike a library, though, are its hours. This place is open bright and early from 7am to the witching hour (midnight). And the monthly cost? For the serious student, it might be cheap, a clean Rs. 500.

So go ahead if you need some quiet while studying. The meager canteen, dirty walls, congested rooms and tiny bathrooms help with cultivating detachment. Oh shoo, you came here to study!
LEAVE A COMMENT
fullhyd.com has 700,000+ monthly visits. Tell Hyderabad what you feel about Akshara Reading Room And Library!