Manohar Talkies (Station Road)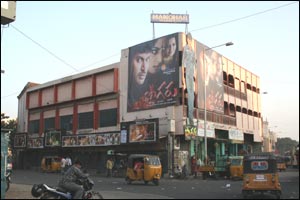 How adventurous are you? If your idea of living on the edge is purchasing movie tickets standing in the middle of the road where you are completely at the mercy of the vehicles that whiz past, then Manohar should become your favorite place.

Actually, finding the theater in itself can give you that adrenalin rush. It is located near Secunderabad Station, but the whole set-up appears no different from the innumerable lodges that have sprung up there. Say you somehow manage to find the hall and survive the ticket-buying routine. What do you get in return? Spit stains on walls, litter strewn on floors, rigid seats, a very assembly-line screen, an excuse for a canteen, and your continued existence. The theater is air-cooled, and screens Telugu flicks that are given an open run.

A place meant solely for the most devoted, fervent and zealous fans of cinema, Manohar certainly isn't where you'd go on a first date.
MANOHAR TALKIES (STATION ROAD) SNAPSHOT
Listed In

Address

Telephone

Distance

Seating Capacity

Air Conditioned

DolbyDTS

Tele-Booking

Year Started

Timings

Closed On

Prices

Payment Option(s)

Closest Bus Stop

Closest MMTS Station

Add New Field:
MOVIES AT MANOHAR TALKIES (STATION ROAD)
There are no movies at Manohar Talkies (Station Road) scheduled currently.
LEAVE A COMMENT
fullhyd.com has 700,000+ monthly visits. Tell Hyderabad what you feel about Manohar Talkies (Station Road)!