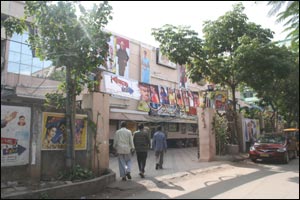 From Sangam to Ramlakhan to Sri Mayuri, this place has come a long way in terms of makeovers. But it stands exactly as it did 30 years ago - one of the best around. Sri Mayuri is a worthy holder of the tremendous legacy Sangam has left for it - that of the oldest theater in the city.

This is the only theater at the RTC crossroads (the are about 10) that isn't directly on the road. You'll have to take a lane that is 20 feet long, and you'll have to go one whole half of it to reach the theater.

Once you get there, what you get is pretty much worth getting into that tatty lane. You buy tickets from some really downscale sounding counters: Lancer, Indica, Ikon etc. But that's about where the downscaling ends.

The seats inside are sweetly comfortable, with enough legroom and some polka dots. The hall is sort of broader than longer, so the people on the corner seats get to know how it feels to be a part of a concave. What fun will that be? Anything to get your mind off a bad movie.

There're nice, mysterious circles scooped into the ceiling, with dazzling lights on their sides. Gives an ultra cool look to the place. The sound system is pretty decent, and the screen is great. You also get some spicy masala popcorn. The couple seats are absolutely at the back, and not in the balcony. The balcony sort of looms large over your heads, giving you a shady feeling. But couples like it that way we suppose.

With really clean premises and a working air-conditioner, Sri Mayuri is truly worth every buck you stole to watch a flick there.
LEAVE A COMMENT
fullhyd.com has 700,000+ monthly visits. Tell Hyderabad what you feel about Sri Mayuri 70mm (RTC X Roads)!