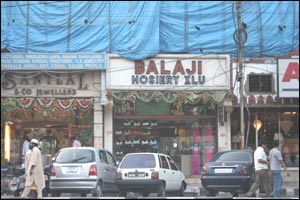 In 1999, Deepal Agarwal saw that the market for lingerie was still untouched by the Hyderabadis. His store is now easily accessible and in a prime locality.

Balaji provides undergarments for the whole family. They have brands such as Juliet, Vanity Fair, Lovable etc. for the women. Priced at Rs. 58 each, Juliet panties can be had in sets of 3 in a plastic box. These are the most sought-after ones because of their pleasant colors and soft fabrics. The bras are at Rs. 315 for a Little Lacy, and Rs. 210 for a padded Scalen bra. Women can also find nighties here. They have satin, cotton and other fabrics, starting at Rs. 355.

The men have quite a range to select from, too. You can choose from boxers to regular underwear in the brands of Jockey, Neva and so on. They range Rs. 70 onwards. The night suits for men are quite nice, though a tad on the expensive side. A simple white night suit would cost you around Rs. 850. Yep, just some clothes to sleep in.

Not stopping there, there's a decent number of socks to select from for men. Of course, they are mostly in the similar shades of grey, black and whites. The brand is uniform - Bonjour International. They cost on average Rs. 90.

If you intend on providing your children with undergarments, which we're sure you would, there is some nice fare for them. They are soft and comfortable, and cost only Rs. 40 at the top end. The nightwear for children is a little expensive, though there's much to choose from. They've cute blue ones with teddy bears on them, plain white ones for pleasant dreams, and many many more.
EVENTS AT BALAJI HOSIERY XLU
There are no events at Balaji Hosiery XLU scheduled currently.