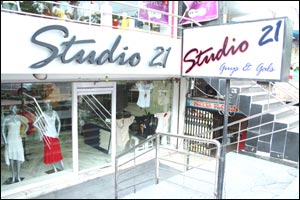 It is true that the really good ones are never easy to discover, you have to strive hard for them. Concealed in the murky depths of Banjara Hills is this veritable gem of a clothing store.

Studio 21 is a Noah's Ark of clothing – it has one or two samples of every brand and every design floating around the city. The store is spacious and decently expansive, with enough walking room for you and your pet elephant.

Let's talk about the clothes now. A statutory warning first: this shop is not for those who break into a sweat or get a heart condition from making choices. They have every conceivable brand of Jeans – Diesel, Gazoz, Notch, Pepe, Levis, Killer, et al. They also stack designer wear from Coffee Berries, Trussardi, Pollen and Armani. Trousers, shirts and T-shirts make up the rest of the men's section. Their prices too remain reasonable, and for anything around Rs. 600, you could walk away with some really cool clothes. Once you get over the initial shock at their variety, shopping here is an extremely immersive experience.

Wish the same could be said about their ladies' section, which isn't as well-developed as the men's section is. They currently have only ladies' tops and a few Jeans. In spite of some interesting designs, most of it is unbranded local stuff. All in all, for guys, this is as close to heaven as they could legally get in Hyderabad. For girls, I suggest you look elsewhere.