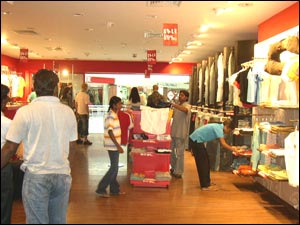 Levi's is known worldwide for its foray into clothing, Jeans in particular. This store at Paradise is nothing less and nothing more. It has its share of the Levi's garnet. From the regular Jeans to the dangerously low-waisted ones, it has 'em all. Though a little crammed for space, they seem to be able to stack themselves up with the trendiest and the fastest moving material from Levi's.

What's irritating about the place is the very inquisitive and nosey salesmen they have. They will not let you shop in peace, and will butt in with their comments and advice - and, my word, their sense of dressing belongs to a different galaxy. The other con about them is that they are not well-versed with the jargon of the retail industry, so if you happen to be one of those who talks style (the straight-cut, boot-cut genre), you are advised to put it in a more salesman-friendly way of "like this" and "like that".

The pricing in the store is akin to that at any other Levi's outlet - affordable for the working class, a tad expensive for the student genre. Very psychologically satisfying price tags like Rs. 999, Rs. 1,299 and Rs. 1,499 are what you can expect to see in here.

On the whole, the store has a nice look and feel, the collection of garments is impressive, and they even stock the trendy shoulder bags of Levi's. On a parting note, don't forget to ask for the eco-friendly paper bags that they give you to put the stuff you bought in.