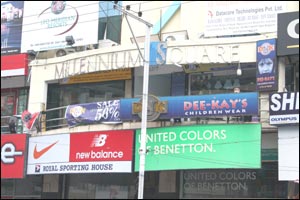 Look what we've found! A quaint one-stop-shop to dress up your little 'Barbie dolls' and 'Ken dolls'. Yes, D 'n' K (or DK's or Deekay's, whatever is easier for your little one to lisp out) is the answer to all parents' problems as to how to dress up their little tykes.

All you have to do is enter, and you'll be in a kids-only zone. There's anything and everything available for the tiny tot to the school-going infant to the pimply 14-year-old. A brother-n-law and sister-in-law duo carefully thought out this kidswear shop, right down to the bright colors and the atmosphere. They even have balloons adorning the shop!

There are some very cute clothes on offer for any occasion. For all the fancy dress wearing party kids, there are Spiderman, Batman and Superman costumes ready and waiting to turn them into the saviors of the world. They even have the Indian cricket team outfit for just Rs. 400.

For the kitty party girls, there are readymade saris comprising a blouse, skirt and attached pallu priced at Rs. 1,000 and above. For the stoutly patriotic, there are lovely traditional suits for boys. Or if you just want your 'enfant terrible' to look like a normal little innocent, there are casual Jeans and shirts, too. They even have cartoon underwear.

There are also serwanis and 4-piece suits for boys available for Rs. 1,000 onwards.

Drop by this shop. You parents will go 'ga ga goo goo' over here... literally.
EVENTS AT D 'N' K (DEEKAY'S)
There are no events at D 'n' K (Deekay's) scheduled currently.