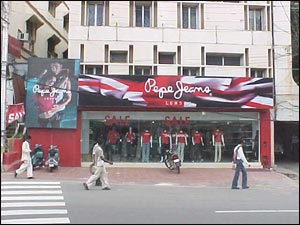 Little would Levi Strauss have imagined that his modest invention would transform the way people dressed in most major parts of the world. The Jeans revolution has led to the creation of some of the biggest conglomerates in the world, straddling the globe in their quest for strong clothing. So much so that nowadays you don't need to sell Jeans to call yourself a Jeans company. You can sell everything from T-shirts to lingerie to shoes, as long as you brand them all together.

One such store is Pepe Jeans at Panjagutta. Frankly, with the way all these new age clothes stores are designed, each one can be mistaken for any of the others. That must be the reason why they advertise so vehemently inside their own stores. Huge hoardings and gaudy posters, all strategically illuminated, with the brand name given pride of place: just to ensure that you don't forget which store you are currently shopping at.

The store itself is bright and well-lit, or maybe it's just that I went there in the day. The shop stacks shirts, T-shirts, tops and trousers apart from the usual Jeans. There are quite a few fresh designs and different styles – judging by the fact that I had my first encounter with yellow-colored Jeans, I would say the clothes are definitely different. They supposedly have a children's collection too, but I didn't notice much variety in that section.

The prices are reasonable: about Rs. 400 gets you a decent T-shirt, and you'd have to spend close to a thousand bucks for a pair of Jeans. All in all, a 4-star store in a 4-star neighborhood: just par for the course.