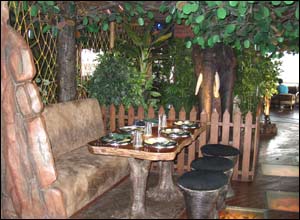 The Scene
Serengeti is to Africa what Africa is to Africa. Well, almost. The trick to liking Serengeti is to go in with no expectations. Which will be hard if you come to a leading Hyderabad website (heh heh) and see an editorial rating for ambience of 10. But then, Serengeti will perhaps still match, or even exceed, your expectations.

Serengeti could then have logically been attempted only by an Ohri's. After a dozen eat-outs all over the place that are marquees on the Hyderabad restaurant scene, it needed to stretch, or at least put one up just to show off. So call Serengeti the pinnacle of Ohri's evolution.

Serengeti aims to recreate the experience of eating in an African jungle, and does a better job of it than the skeptical one might expect. Yes, it works best if you walk in skeptically.

There are vines, sprawling banyans with hanging aerial roots and all, authentic grunts and growls in stereophonic sound, life-size animals that actually move, and even machans. Well, not exactly machans, but a whole upper floor. Which is even better, given the panoramic view of the city from there.

Even the waiters are dressed like the Phantom's jungle patrol in this sprawling restaurant-cum-bar, and the feel is more life-like than you would normally assume possible in this African safari. It would be a whale of a time for your kids, and for you too if you haven't resigned yourself to being an adult yet. You can't help wondering at the creative and the logistical effort.

The Food
Serengeti serves Awadh (Peshawari) cuisine. Which approximates to North-Indian if you need a dictionary for it. Parothas, kebabs, shorbots, dumpukht biryanis and lots of Paneer, Murgh and Gosht all over the menu.

The alcohol menu is a colossal spread in itself, serving just about anything Indian and firangi that you need to bankrupt yourself. Apertifs (including a Chaat Ranthambori), soups (including Paya Shorba) and salads (including a Tandoori Warm Salad) are the only things rather reasonably priced, ranging Rs. 50 - Rs. 100.

There's a vast appetizer spread, including seafood (Jheengha Dum Nisha and Tandoori Jheengha being prominent), mutton (Kakori Seekh, Raan E Sikandari), chicken (Bhatti Ka Murgh, Banjara Murgh Kebab), a chef special Tawa menu (all meat) and kebabs (priced Rs. 600 - Rs. 1,350). A typical non-veg appetizer can cost Rs. 250. Veg appetizers include chaat items, tikkas and kebabs, and are priced Rs. 120 - Rs. 500. The main course again has seafood, mutton, chicken and veg (mostly paneer) items as separate heads, plus dals, breads, 3 dumpukht biryanis of Avadh (including Dum Murgh Biryani), and pulaos. Jheegha Lababdar, Baliram Gosht, Murgh Serengeti Masala, Paneer Jahangiri and Rarha Gosht are some indicative items on the menu. There are some handi dishes too. Desserts, priced Rs. 90 - Rs. 160, include, among others, Kulfi Falooda, Aam Ras Chana Payas, Litchi Ka Tehari and Gulab Jamoon.

You can't really complain about the food if you like this branch of cuisine, but you can do that of the prices. Indeed, the ambience costs - a meal for two, without alcohol, can cost Rs. 800. But as we write this (Oct 2007), Ohri's has found a solution to that, too (we guess they needed to). Yes, there are thalis at lunch now priced Rs. 200 - Rs. 350 (depending on whether you want veg or non-veg, and how many items you want) that you really can't go wrong with. The spread in this quasi-buffet includes something from all sections of the menu, and is really good (you can actually fill yourself up with the appetizers if you aren't careful) - perhaps so good that they'll tinker around with it to spruce it down.

The Verdict
After the thalis, there's no reason any more to not visit Serengeti. You owe it to the kids in your home, and in yourself. Or at least to the animals.