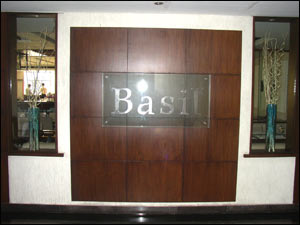 The Scene
Basil. Or in Telugu, tulasi. The very word should conjure up images of freshness, purity, health and freshly bathed Telugu inti aadapaduchus circumambulating holy backyard plants to the tune of the suprabhaatam. If it does conjure these images up (the first three, anyway), the management can congratulate themselves for having picked a winning name.

Despite the traditional name, however, the interiors at Basil tend towards modernism. The clean lines and planes, dark wood, muted lighting and discreetly placed shrubbery give the place a distinctly clubby feel. The overall effect is marred somewhat by the occasional pillar that is covered in what appears to be silver chocolate wrapper, and lit with a strange nuclear reactor blue light. The crowd is mixed - despite the nightclub-like insides, it isn't a pure Page 3, Page 5 or Page X hangout.

The Food
The mocktail menu is more elaborate than usual. While some of the concoctions might appear to be the work of a fruit-stall owner desperately mixing and matching stuff to get rid of inventory (litchi + orange?), it seems to hold promise. The dessert menu is an appendage to the mocktails list, and is also long and varied, with such things as Fried Ice Cream catching your eye.

Otherwise, the menu may be described as more or less conventional. There are an Indian section, a Chinese section, pastas and a Continental section. They have a selection based on corn and sweet corn which we can't say we've seen elsewhere, and they seem to know what they're doing. The Bhutta Seekh Kababs are delectable.

The only other thing to say about the menu really is that for a specialty veg restaurant, it doesn't seem to be as large and variegated as it could be. If Basil wants to carve a niche for itself in this space, perhaps it will have to build its USP around a limited set of specific dishes and concepts (a la the stupendously popular and stupendously vegetarian Chutney's). Or else they might have to range farther and wider in their selection, so that there's something for everyone who visits.

The Verdict
Basil scores high for location, ambience and decor. The service was unusually good; the wait staff is considerate and knowledgeable about the food in a meaningful way (rather than rattling off everything on the menu); and the food is much better than average.

On the whole, definitely worth a dekko, especially if you're a veggie in this biryani-haleem crazy city. Perched on the top floor of the Lumbini Mall atop one of the Banjara Hills, Basil commands a great view of the surrounding countryside. If Hyderabad was ever besieged, this would be a logical place to make the last stand.

A good view of the terrain, industrial quantities of tasty food, a mall for the non-combatants to relax in, and a tombstone in Banjara Hills. What more could a warrior ask for?