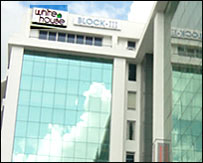 Victoria's Secret lingerie for Rs. 195! Banana Republic for hot pants for Rs. 165! And now that we have your attention (for whatever reason it be) here's all of it.

Victoria's Secrets nightwear and lingerie for Rs. 195, Abercrombie Fitch shorts for Rs. 400, Tommy Hilfiger skirts for Rs. 299, Nike tracks for Rs. 445, Bilamore tracks for Rs. 525, original NBA jerseys for Rs. 495, Ralph Lauren cargoes for Rs. 550, Armani shirts for Rs. 445, Guess shirts for Rs. 299 and a lot more. And most importantly, no rip-offs. And even more important than that, you don't have to travel halfway round the world to get your hands on these.

No, we haven't been had. But you can have all this stuff at Fast Forward. And if you notice, Fast Forward doesn't patronize us, so this is not an exercise in bending the truth.

Fast Forward is one of the few names in cheap clothing to rock the city. And does it ever! The place is chokingly packed with shoppers looking for a steal. Spread over 1,000 sq ft, it houses international brands like the ones already mentioned, and a few others like Nautica, Gap, Versace, Harley Davidson, Espirit, Ecko and Zara. And in case you question the credibility of the merchandise as against its prices, you can rest assured. This merchandise is had so thanks to cancelled shipments, overruns and export surpluses.

From party wear to night wear to formal wear, casual wear, sports wear and underwear, Fast Forward is a one stop shop. Hot pants, low rise denims, Irish linen drawstrings, skirts, T-shirts, capris, pajamas, lingerie, shirts, halters, spaghettis, soccer jerseys, perfumes, Kachchi printed handbags, packable pants, kurtas, socks, junk jewelry and what not. And all priced between Rs. 25 and Rs. 1,099.

So much so, they even sell hammocks. Yes, hammocks! Those comfy looking babies that you see people serenely lounging on on television, wondering all the time how you could get your grubby hands on one of 'em. Here's how. By coughing up Rs. 1,800 or Rs. 3,950.

So sit back, relax, and let your wallet nose your way around this place.