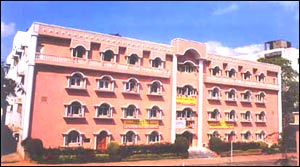 Named after Friedrich Froebel, a renowned German educationist and child psychologist, Froebels High School has stood sturdy since the last 30 years. Ghulam Hussain, an educationist much ahead of his times, laid the school's foundation in 1975. In times when the stick was the rule of class, Hussain introduced a more humane and less stressful method of learning. At Froebels, they believe in structuring the syllabus so as to better align it with the capabilities of the children.

In addition to the regular course of the High School, the school provides painting, music, glass painting, pot painting and fabric painting - a fact which enables the young artists of Froebels to organize an Arts And Crafts Exhibition every year. This exhibition is open to the public, and is held on the sprawling premises of the school.

The school provides facilities for cricket, football, volleyball, basketball, kho-kho, table tennis, carroms and chess, and also for the more vigorous sports like Karate and Kung-Fu. It also organizes a Inter-School Tournament (FIST), in which nearly 100 schools participate.

As if to emphasize that play is not all that is on its mind, Froebels has well-equipped biological science and physical science labs, and a staff hand-picked by its director, Hussain, who himself is an MBA and an MS from the United States.

The campus also houses a Kindergarten and a Vocational Training Center, and has two other annexes in the twin cities to carry out its educational endeavors. A Rs. 6,500 admission fee and a Rs. 2,050 Quarterly fee, with a deposit of Rs. 3,000, is all that is expected of you as a parent, to get yourself some peace of mind and a little me-time.

At Froebels, they honestly believe that education is what remains when you have forgotten what you've been taught - provided you don't forget the school fees!
EVENTS AT FROEBELS HIGH SCHOOL
There are no events at Froebels High School scheduled currently.