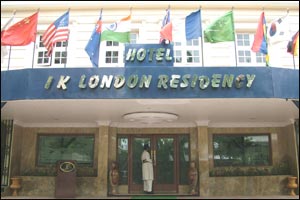 For something that is called London Residency, it is in a slightly, umm... let's say, a stray area code. Heck, maybe even area, for Hyderabad is a long way from London - even our geographically challenged mind knows that!

But IK's architecture is styled along London angles, and it is an offshoot of a hotel that is in London. Aside from that, I K strives to provide the kind of hospitality that Indians are renowned for.

As you enter the marble-floored lobby, you are filled with an inexplicable yet pressing need to check in, on the double. This little 60-room hotel is a quiet affair of comforts, providing a bouquet of three categories of rooms to choose from. The London Suite is a single-roomed, fairly spacious boudoir/living area. The Deluxe room is probably the best kind of room here, from the cost-benefit perspective.

IK has a 24-hour coffee-shop-cum-restaurant Tycoon which prides itself on its business buffet lunch, and a banquet hall called Lady Diana that is ideal for small gatherings and business affairs.

IK London Residency is a friendly place, and all that 'easiness' rubs off on you, too. The use of colors in the rooms (the linens and the upholstery) adds a little bit of zing to the whole experience.

Priced in a typically 3-star manner, IK London Residency meets most 3-star expectations as well.
EVENTS AT I K LONDON RESIDENCY
There are no events at I K London Residency scheduled currently.