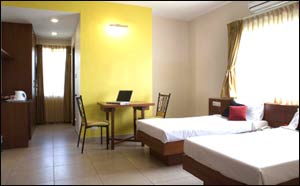 Unlike the homier Masala Guest House, which is a stone's throw from this particular guesthouse, Mapple Inn has been conceptualized especially for the business traveler.

Located on the 3rd floor (it has its own private elevator), this small inn has 14 twin rooms and 2 junior suites, each of which has been furnished using plenty of wood (hence 'mapple' inn) and complimentary colors ranging from warm wood, beech and buff.

They are also designed keeping in mind conveniences that a guest (especially a corporate traveler) would require - sturdy worktables (which, may we add, could be in better condition), electronic safes, tea and coffee makers, Internet connectivity and mini-bars among them.

The look and feel of the rooms - the whole inn, in fact - is very contempo, while the size of Mapple Inn (it is quite small) creates a coziness, making the hospitality seem more exclusive.

The modest lounge area is clean and quite utilitarian, to which the cushy leather sofa set and glass coffee table add a touch of sophistication. The doors to the rooms stand immediately behind, while on the offside operates a 24-hour coffee shop, which is undoubtedly a boon for those workaholic executives.

The porch is where the complimentary buffet breakfast is spread every morning, against the backdrop of the busy (but rather noisy) Road No. 36. And it is this location, Road No. 36, that makes Mapple Inn a good choice for a traveler wanting to reside near Hi-Tec City (approximately 4 kilometers away) but still not stray too far from the main city.

However, living in Jubilee Hills also means paying the price - literally. The tariffs at Mapple Inn are rather steep. The lowest price for a twin room is a hefty Rs. 3,250 per 24 hours, more than a day's rent for a 2-bedroom flat at At Home serviced apartments in the Kondapur neighborhood.