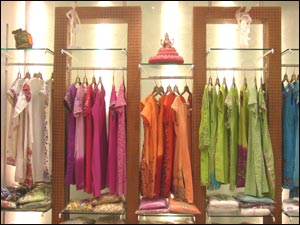 Ideally, how much should you pay for your wedding ensemble? (a) Rs. 9,000 (b) Rs. 12,000 (c) Rs. 17,000?

(a), (b) and (c) are all right. Not individually, but put together. Really, because (a) ideally, you don't make the same mistake twice, and (b) for Rs. 38,000 Mebaz gives you a ghagra which is an absolute knock-out! In brilliant hues of scarlet, blue and gold, with different patterns of zari, embroidery or sequins, and in regaling, fabrics, designs and patterns - if you are the bride, you probably have to look no further than the cosy, cushy, plush ante-room here.

And if you are the groom, then rest assured, they will find everything you might need. Except a bride.

What do the men have to chose from, here? Accessories by Hugo Boss, Police and Versace; shirts by Bugatti and Inde-pret; suits by Papparazzi, Dennis Parker and Sarar - in fact, Mebaz is the only place in AP where you can buy Sarar; Sherwanis, Kurtas and Jodhpuris; linens that you can have tailored into shirts, jackets and suits; presents that would really go over with the women... whew! The only problem that a man will have here will be dealing with the question of too much choice.

Mebaz also has a dazzling collection of saris with labels like Ravi Bajaj and Shaina, stunning salwar-kameez in variegated fabrics, textures and designs, gorgeous bags that are ideal for an evening out, and designer semi-precious jewelry by names like Karishma Mehra.

But you must really check out the range that their inhouse designers roll out. Their karigars do one heck of a job.

Go to Mebaz when you are feeling generous. The prices are elitist. But so is the merchandise. And it will be moolah well-spent.
EVENTS AT MEBAZ (CLOTHING)
There are no events at Mebaz (Clothing) scheduled currently.