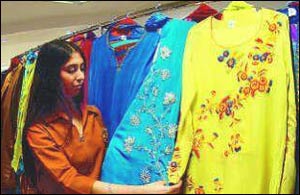 At Origins lies the, well, origin of marriage. Their collection is somehow very... weddingy. The ghagras are all seriously jhatang, the kurtas are the right kind of vibrant for bridegrooms, and the whole feel of the place is somehow eternal.

That's exactly the kind of thing you cannot say about their styles. They may be a house of the traditional, but their designs are all very in vogue and with it. You simply have to check out their collection of salwar kameezes for women. It is sober, yet will make heads turn if you wear any of it at the dressiest place. Find Seema Gujral's lehengas, Mohini Merchant's kurtis and a plethora of other designers. There is also a very modest collecton of fragrances by Bora Bora, Curve etc., a trickle of handbags, and chunnis and stoles.

The range of suits for men is recommendable. Their tailors and shop-assistants will be at hand to give any suggestion/advice. Head here for an exorbitant but well-worth-it shopping experience. Really, here's the kind of stuff you can sell your soul to the Devil for.