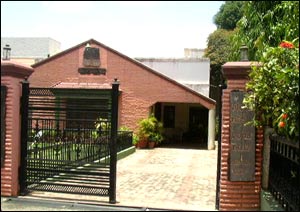 You are almost not quite sure if this is the right place, since it seems, from the entrance, like a villa set in Ooty. Except, you are right - this is not quite the place for a fulfilling round of shopping.

Sparsely stocked, Raasa is either meant for customers who have the exact same taste as the proprietor, or who need to buy something for that evening, with no time to browse other shops. There were almost precisely 12 highly embroidered saris when we went here on a July 2007 afternoon, a couple of skirts and tops, and salwar-kameezes of which nothing is priced within 3 figures. While the decor of the store is almost as interesting as the wares, that is not the stuff on sale.

The owners would do well to either turn such a lucrative piece of property into a coffee-shop, or infuse more enthusiasm into managing it.
LEAVE A COMMENT
fullhyd.com has 700,000+ monthly visits. Tell Hyderabad what you feel about Raasa Tatva Of Ethnic Living!