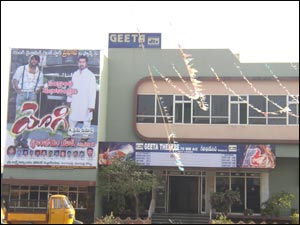 The location of Geeta, like that of the other cinema halls in the vicinity, is distinct from that of most other Hyderabadi theaters. Established in 1984, Geeta started off as the only theater in the Chandanagar-Lingampally area, with a special late night show at 10:15pm (normally, the night show is somewhere between 9pm and 9:30pm) to suit crowds working in BHEL and other industries in the area. It worked, and Geeta was soon burgeoning as a cinema hall screening the latest Telugu flicks and supporting timings that matched the workers' leisure period.

The hall is tucked away in a negligible bylane in the crowded area of R C Puram. Therefore, if you mistake the theater for a shaadi khana, it is absolutely normal. I was dumbfounded at the sight of the hall, as I had been circling around in the surrounding area for a painful 30 minutes. So, unlike many Hyderabadi theaters, Geeta doesn't have any cafes around it. In all, a rather unique location.

The parking space is adequate, with columned walls demarcating the areas for cars, bikes and autos. The interiors of the theater are nothing inconceivable: a few paintings of Hindu gods and goddesses on the wall facing the entrance, and a couple of old, vulnerable sofas with scraggy cushioning. The loos are okay, but just in case, don't wander off for too long.
LEAVE A COMMENT
fullhyd.com has 700,000+ monthly visits. Tell Hyderabad what you feel about Miraj Cinemas Geeta (Chandanagar)!