Sridevi 70mm (Chilkalguda)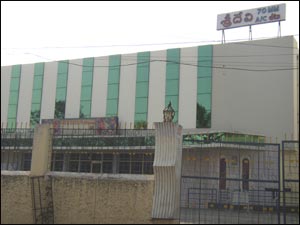 The seemless naala and the police station opposite Sridevi might do just enough to rinse your mind off the movie scheme and get you to head back for a peaceful night cap instead. But wait, read on, and you might discover a jewel amongst the rubble.

Largely, it is the outrageous parking space at Sridevi that catches your attention. Unlike other theaters in Hyderabad that allot skimpy areas for parking, this one is built on a massive, 4-acre plot, with emphasis on the parking lot. The edifice in the center houses a competent staff, trendy furniture for the lounge, and an enticing DTS audio system.

The loos, to your bewilderment, are spotless - and stainless, too. The interiors aren't too troublesome, unless you happen to succeed in vexing the theater staff by spitting around in the otherwise laundered surroundings.

On the whole, Sridevi is as harmless and friendly as the police station nearby, unless you poke yourself into trouble.
SRIDEVI 70MM (CHILKALGUDA) SNAPSHOT
Listed In

Address

Chilkalguda Police Station Road, Chilkalguda, Secunderabad - 500025

14 users say this is wrong.

Telephone

2750-8357, 2750-0086

25 users say this is wrong.

Distance

Seating Capacity

Air Conditioned

DolbyDTS

Tele-Booking

Year Started

1984

1 user says this is wrong.

Closed On

Prices

Payment Option(s)

Closest Bus Stop

Closest MMTS Station

Add New Field:
MOVIES AT SRIDEVI 70MM (CHILKALGUDA)
There are no movies at Sridevi 70mm (Chilkalguda) scheduled currently.
LEAVE A COMMENT
fullhyd.com has 700,000+ monthly visits. Tell Hyderabad what you feel about Sridevi 70mm (Chilkalguda)!