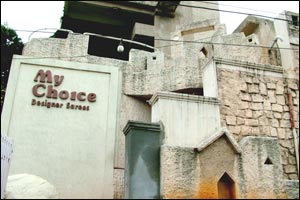 My Choice is a regular sari store in a highly inconvenient location. The pilgrim like zeal one requires to find his way into this IT-firm littered area of Jubilee hills might not inspire many, especially given the generous sprinkling of sari stores in all of Hyderabad's major commercial zones. But built into a castle-like brown stone tower, the twin showrooms of cotton and silk saris here have comfortably plush decors.

Silks range from Rs. 2,000 to Rs. 20,000, and cottons from Rs. 425 to Rs. 2,400. The ubiquitous crepes, georgettes and chiffons sell hotly here too. My Choice's jute saris are particularly nice. Falling in the Rs. 5,000+ range, their dust-tinged colors have a soberly pretty look. The interweaving with resham zari makes them understatedly unconventional.

The wedding collection consists of tinseled and spangled sheers. Going up to Rs. 18,000, they should be seen as commodity party wear that you can't go wrong with. The more you spend, the more the spangles, kundan stones and zardosi you get. That, indeed, is the logic of saris, anyway. The more the garnish, the merrier. In the best of saris, the wearer becomes inconspicuous. And probably wouldn't mind it either.

With the base design fixed as a 6 yard (or lesser) bale of cloth and the need for cutting and shaping eliminated, the emphasis is poured into trims and trinkets. An orange crepe georgette sari with white and red kundan stones and zardosi selma work on the red border is designed by Ananya of Hyderabad, and costs Rs. 18,000.

The cotton section has matka, gold, crepe and bandhini prints. A pristine white cotton sari available here, with a light pink border and a checkered texture, is perfect for unadventurous, yet assertive office wear. For more, visit My Choice itself, especially if you work nearby. Laden only with the most happening and demanded styles, it's not a store you can go wrong with, no matter what you buy.
EVENTS AT MY CHOICE SARIS
There are no events at My Choice Saris scheduled currently.