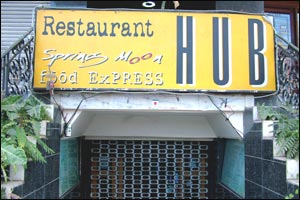 What started out as hang-out joint, with pizzas, fries and Calvin & Hobbes table-mats, has now turned into a respectable little family restaurant with only serious food, for the seriously hungry. No more attempts at wackiness, except for the Calvin & Hobbes, which have, luckily, stayed.

Takeaway is what most people prefer to do at The Hub, but this is still a crowded place during peak lunch-hours, thanks to the hundreds of offices around. A slightly dark place, with not too many tables, The Hub is not the kind of place you'd spend hours at. Strictly for working lunches and TV dinners.

In its niche, though, The Hub does very well. The favorites are mostly Indian, with only a couple of Chinese dishes making an appearance. The kebabs are quite a hit, and the best way to do it is to order the Platter with everything. The more popular ones on offer are the Kalmi, the Veg. Sheekh or the Khandari Jahangir kebab.

With naan, try the Paneer Subzi Roganjosh - a specialty -, spicy Veg. Chettinad or Babycorn Capsicum Masala. The restaurant does a good job of uncommon dishes like the Harabhara Mushroom as well as the more common Butter Chicken Masala. Special rotis like Kashmiri and Peshawari naans are made with dry-fruits, and go well with all thick gravies.

Chinese-food-lovers usually go for the Chopsuey - both American and Chinese do well - and snack up on Chicken Drumsticks or the Veg. Gold Coin. For your sweet-tooth, try the Qubani-Ka-Meeta or the Caramel Custard; not too much choice here.

As mentioned earlier, a large majority of people prefer to order The Hub home to them, and the restaurant obliges by making free deliveries within approximately a 7km radius. Roughly covering Jubilee Hills at one extremity and Marredpally on the other. That one restaurant's fame should travel this far, in spite of the number of choices out there, ought to tell you all you need to know about The Hub.
EVENTS AT THE HUB RESTAURANT
There are no events at The Hub Restaurant scheduled currently.