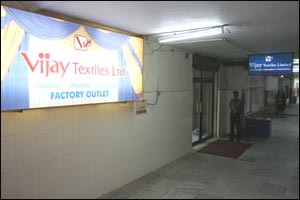 The showroom of Vijay Textiles Limited, or the Factory Outlet as they call it, occupies the entire basement of Surya Towers, and let me tell you that's no small space! They are manufacturers themselves, having units in several states across India. They sell their products through this exclusive outlet and also through other retail outlets.

There is an immense choice of materials available: rolls and rolls of silks, cottons, jacquard, chenille etc. consistently entice the customer. However, don't be fooled by the term 'factory outlet', for the prices are definitely not lower than at other showrooms. In fact in some categories they are even higher. The range for curtain and sofa fabric is from about Rs. 175 - Rs. 1,275 per meter.

They have a discount area where, at the time of writing this review, the items were marked 40% lower than the MRP, but they were really of the not-so-attractive (read ugly) variety, so you'll find yourself moving back into the main showroom area. However, there are very eye-catching fabrics in the 300-rupee range, so the mid-level customer would definitely do well here.

There are curtain accessories like tie backs, fringes etc. and the store also offers tailoring services. Synthetic carpets and runners are available, as are table and bed linen. These items are available in the same design elsewhere too, so there's not much exclusivity here. A special mention is required here for some foot mats that are available for Rs. 525 apiece, as they are definitely of the "Oooh, that feels so good!" category - a real luxury for your feet.

Vijay Textiles is a must visit for those on the lookout for home furnishings, as you would probably not find anywhere else the vastness of choice that is available here.