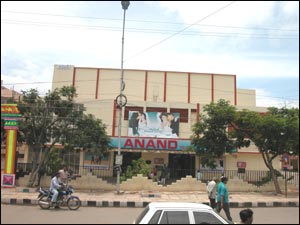 Anand screens an eclectic selection of movies, from borderline soft-porn to Bollywood blockbusters. Earlier known as the only theater in Secunderabad to give Sangeet a run for its money when it came to English films, Anand has now greatly watered down its menu in its quest for full houses.

The theater was renovated in 2001. But we're not sure exactly what has changed for the better around here. The parking space is adequate. The seats are not bad, but they're not very comfortable, either. And the 'air-cooling' doesn't always come through. But then the ticket prices are lower here, so it all evens out. Somewhat.

Its audience, however, makes up for the general blahness of the theater. Consisting mostly of families and young people, the crowd is well-behaved. On the whole, Anand has managed to hold on to its reputation as a 'decent' movie place, but it could do with some shining of shoes and all-round sprucing up.