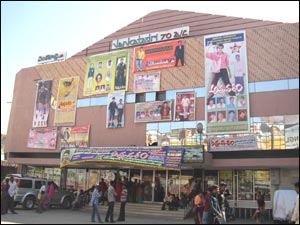 Imagine a full-time mom who has given up her career and hasn't looked back since – mainly because even if she turns her head for a millisecond, her hyper-active sons will wreck havoc. It is the same with Dilsukhnagar. Being here is like coping with the daily struggle of motherhood. Namely, the struggle to restrain yourself from killing the out-of-control children.

Venkatadri 70mm is one of the hordes of movie halls strewn across this expanse. Going to this theater is like spending a day at Disneyland – all expenses paid. You get to enjoy the sights and the sounds and take back memories of the harrowing experience when cotton candy had stuck all over your face.

The theater is under renovation in December 2005 as we write this, and you would do good to stay away from it for a month. Never-cleaned toilets, unavailability of balcony tickets, cement pelts all over the seats (and your head)... and that is not the entire list of woes now.

Otherwise, though, one thing that holds your interest, besides the ambience and better-than-good audio visuals, is the size of the hall. Great parking space and a seating capacity of 1,400, with 650 seats in the upper circle alone, make for a grand impression. But in spite of the colossal seating capacity, you would have to reach the venue a good hour-and-a-half before the scheduled start to lay your hands on the tickets. Tele-booking can serve your purpose to an extent for blockbuster shows.

Once inside, though, you would be gratified. A whole gamut of amenities including relieving leg space and soothing AC keep you enthralled. And you will have no hassles with the crowds frequenting the theater. Students from nearby colleges and families keep the hall teeming at all times. The only possible hitch could be the archaic seating arrangement.

You will notice several tiny shops outside the theater's premises serving appetizing South-Indian food, straight off the stove. The dosa, especially, is done to great nicety, as are the butter idlis. You cannot but help shamelessly, gleefully succumbing to the moment of deliciously sinful temptation. And finally washing it down the throat with cool fresh 'allam' (ginger) soda is an experience in itself. You will love every moment of the pleasure when you catch a movie here and then couple it with the epicurean experience.
MOVIES AT VENKATADRI 70MM (DILSUKHNAGAR)
There are no movies at Venkatadri 70mm (Dilsukhnagar) scheduled currently.
LEAVE A COMMENT
fullhyd.com has 700,000+ monthly visits. Tell Hyderabad what you feel about Venkatadri 70mm (Dilsukhnagar)!