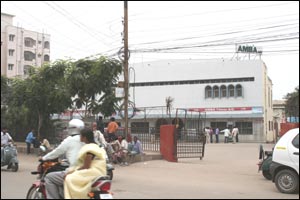 If you're a hardcore movie fan, you wouldn't mind catching a flick at Amba. So what if you have to survive extreme pain to body and mind in the process? That's what hardcore is all about, right?

The first thing at Amba that strikes a movie buff, hardcore or softcore (the movie buff, not the movie), is a sense of being in touch with his roots. Only his ancestors spat and smelt like the people here. No, we're not being judgmental. We're being plain dismissive.

If you can ignore the people, try ignoring other things like the acute shortage of legroom. Even if you manage to ignore it, the person in your row would politely remind you by squishing your toes with his steel-reinforced soles - if you're lucky. If not, the guy in your row might walk in with his back towards you and your face might coincide with that special portion on which he sits. It can get worse, you know.

And it does. The sound system here reminds you of your mother. The chances of hearing her calling you from your home are better than you hearing the dialogues on the screen. And we're calling it a screen for the lack of a better word. Or a worse word. Whatever.

The theater recently upholstered its seats, but it needs to do that to its staff, too. The only reason you might go here is because Amba always plays the latest movies, the prices are low, and you stay in the Mehdipatnam neighbourhood. Toilets need improvement. Apart from this, as we said, only for the hardcore fanatics.
LEAVE A COMMENT
fullhyd.com has 700,000+ monthly visits. Tell Hyderabad what you feel about Amba 70mm (Mehdipatnam)!