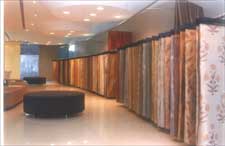 The atmosphere is land, water, air and great furnishing. Yes, you heard us - atmosphere (without the capitalisation) is one awesome home decor store, even if it is a grammatical nightmare.

It's niche, it's contemporary, it's elegant and it's all natural fiber. A 100% subsidiary of Himatsingka Seide, atmosphere presents a wide array of sheers, curtains and upholstery - all woven in silk, cotton or a divine blend. They tell you that silk is their USP, but you will soon find that it is their customer hospitality that deserves that credit.

The ambience of the store is quasi-lounge, making for a great laid-back shopping experience. The sublime whites that are generously splashed around its interiors have a soothing effect. The sheers, available in prints or plain, are gorgeous, and quite simply, to die for. The uphostery is modern, and is perfect if you are looking to present a casual, informal living area. You could take swatches home to get a better picture of what compliments your interiors better.

So, we have established that the store is amazing, but will it hurt the pocket? Hell, yeah! But then, quality comes at a price, and you won't regret spending here. And when you enter the store, remember, if the best things about life were free, then it wouldn't take a diamond ring to get a girl to accept a proposal.
LEAVE A COMMENT
fullhyd.com has 700,000+ monthly visits. Tell Hyderabad what you feel about Atmosphere - The Fine Furnishing Store!