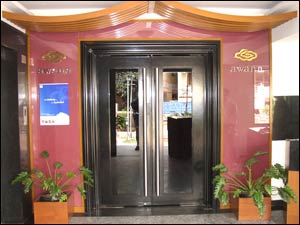 It's a good time to be eating out in Hyderabad. The number and quality of places that have been introduced to the Hyderabadi gastronomic society have gone up several notches. The era of the great Indian obsession with Chinese food as the only alternative to eating out is finally drawing to close, and the city takes its first steps in the direction of exploring new exotic South-East Asian cuisine.

Brand Malaysia, with its aggressive promotions, has already become one of the most sought-after destinations for the Indian tourist. It, then, was just a matter of time before the country became familiar enough for us foodies to experiment with its food. And that time is now. Awana, the new place on Banjara Hills, is a culmination of both that adventurous Indian palate as well as the entrepreneurial Malaysian spirit.

But that was the good part.

The Scene
The newly opened Malay eating place, which is located on the remains of what was the erstwhile Little Penang, while serving perhaps authentic Malaysian food, does so to the benefit of the very few who could as well fly to Malaysia for dinner. Maybe that's not quite factual, but it's close. The prices are steep - and how.

The food notwithstanding, Awana feels, smells and looks like you have wandered into one of the restaurants lining the major shopping districts of Kuala Lumpur. With its well-chosen staff, the Malaysian national flag on display and the crisp uniforms, you are reminded of all that is good with the emerging dragons of the Asian continent.

The Food
The food is authentic, as mentioned before, with succulent satays, delicious Roti Canais and plated Nasi Gorengs, but the management would be well advised to either tone down the use of fish sauce for the Indian palate or introduce items that would make the transition for enthusiastic newbies to Malay cuisine, easier.

The Verdict
A place to visit for its novelty value alone - once. And successively for its food.