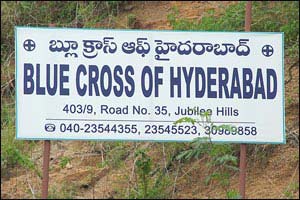 Background
The Blue Cross Of Hyderabad was conceptualized by Amala Akkineni, Nagarjuna Akkineni and Dr. Vijaya Kumar (from the Dept of Animal Husbandry, AP), and formally registered as a society in 1993. Initially set up as an animal rescue service, the Blue Cross additionally offers an impressive range of services for animals. It would surprise you to know that since its inception, the Society has successfully helped 90,295 animals as we write this in early 2004.

Activities
Apart from ambulance and rescue services, other programs of the Blue Cross include animal birth control, anti-rabies inoculations, humane education and veterinary services for pets and strays. Yes, an animal needs a lot more than just a daily feed. Their veterinary clinic is open to the public from 10am to 1pm everyday, except Mondays.

Membership And Volunteer Opportunities
A Blue Cross membership is not that easy to come by anymore - you can't get one just because "it's hip", or simply because you're an ardent animal lover. Committed individuals can contact the Blue Cross and enroll themselves for a 1-day workshop and put in 12 hours of service for certification as a volunteer. Workshops are held in batches of 6 at the center.

Interesting volunteer options include "adopting on site" - i. e., looking after an animal for a day at the Center - adopting a "dog for life" (at the Center), donating to the "Feeding Scheme", and adopting a pet (post a personal interview, of course). For the younger population, find out how you can start your very own animal club - customized with your very own club name!

Cash donations can be made by cheque/DD in favor of "The Blue Cross of Hyderabad", and mailed to their registered office.

The Blue Cross is no longer a two-roomed office with sheds outside for abandoned dogs. 2 full-time vets attend to immaculately maintained wards for dogs, cats, cattle, monkeys and birds. It's heartening to step inside the premises and be greeted with a cheerful bark and content mew, rather than a holler of painful neglect.
EVENTS AT BLUE CROSS OF HYDERABAD
There are no events at Blue Cross Of Hyderabad scheduled currently.
LEAVE A COMMENT
fullhyd.com has 700,000+ monthly visits. Tell Hyderabad what you feel about Blue Cross Of Hyderabad!