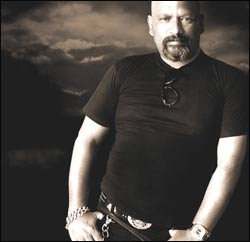 Blackjack's your homegrown guy, a thorough-bred Hyderabadi - inside out! And he is as quintessential to the city's existence as the biryani! With DJ Blackjack in the house, there is but one guarantee - fantabulous music!

Let him work his magic with classic rock, blues and jazz. Or even party, dance, fusion, country and reggae. Hear him play Mark Chestnut, Judas Priest, Shania Twain and Shakti with even ease. Actually, just allow him to be in charge and settle back to let the music wash over you!

Corporate gigs, cocktail affairs, loud parties or a girls' night - he's worked them all and then some in the last 12 years. He started out at a club called Black Cadillac - and that and a gazillion other gigs later, Blackjack became the Jack of this trade.

He is a guy with an MPD - David by day and BJ by night. This man has also sniffed around advertising and business development. If that does not explain why you won't catch him dead sans his visiting cards, we really don't know what does.

But you know what? Just arrest him along with the truckloads of music that he always carries and get into solitary with him.