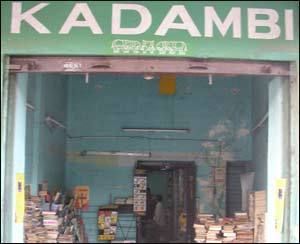 After shifting from its location near Clock Tower thanks to road-widening and issues with the landlord, and running a super clearance sale in the process with some real gems offloaded between 20 to 200 bucks each, Kadambi is now headquartered at West Marredpally. The new store houses the general books on fiction, electronics for the layman and management for everybody, as also books for children.

The stars and their predisposed antics have a very special place in the hearts of Kadambi's owners, since the store specialises in astrology-related books. Linda Goodman and her treatises, and a number of other books on i>pranic healing, reiki and vaastu, are the highlights of the place. You also have the ubiquitous books on personal development. So one section tells you how to grab life by its ironical horns, and the other tells you that that wasn't such a good idea since your particular star suffered a supernova.

Of the books on sale, you have some classics that time buried beneath the eternal oceans of sand. There was a 30-year-old MAD in its hardbound version, so that's gotta give you an idea of the stuff that you're likely to find here.