Kalyani 35mm (Old Bowenpally)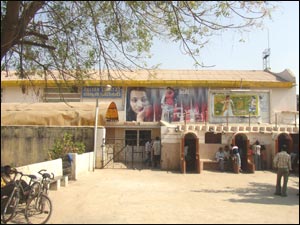 One glance at Kalyani, and you will be filled with memories from your Kindergarten school. However, the stink from the nala running adjacent to the hall cuts short your nostalgic trip.

Established in 1976, Kalyani is probably one of the oldest theaters in the twin cities that hasn't been upgraded at all. The entrance to the hall, its ticket counters, the lobby, the loos etc. are all miniature in size, and you would have to try real hard not to connect these sights with KG school.

The theater screens only Telugu movies (3-4 months after their release) and English films dubbed in Telugu with out-dated equipment - an incompetent sound system and an ageing projector haven't repelled the scores of cinephiles who visit this hall. The reasons - very very affordable ticket prices; chai-samosa, cigarette-beedi etc. available inside the hall; and lastly, you can walk in any time without disturbing the dozing munshi at the door.

And arguing with the truculent parking attendant for space or for the parking ticket is useless - try reaching the theater on foot. This way you will be able to avoid the flowing nala as well.
KALYANI 35MM (OLD BOWENPALLY) SNAPSHOT
Listed In

Address

Distance

Air Conditioned

DolbyDTS

Tele-Booking

Year Started

Timings

Closed On

Payment Option(s)

Closest Bus Stop

Closest MMTS Station

Add New Field:
MOVIES AT KALYANI 35MM (OLD BOWENPALLY)
There are no movies at Kalyani 35mm (Old Bowenpally) scheduled currently.
LEAVE A COMMENT
fullhyd.com has 700,000+ monthly visits. Tell Hyderabad what you feel about Kalyani 35mm (Old Bowenpally)!